Do you find getting good testimonials a challenge?  Is it awkward asking for them then maybe they never arrive?  And if they do, they just don't say quite what you want your client to have said?
Is there too much, "Rosemary is a lovely person" and not enough "she helped me double my income?!"
The best testimonials sound natural, as if someone is speaking them.   I'm guilty of just asking someone to give me a testimonial but that doesn't necessarily glean a useful testimonial as we get anxious about what to write.  We want to say the right things and it can come out stilted and not something we want to share.
Make it easy for you AND your clients to write.
Here's a template formula for getting great testimonials, making it easy for you, your clients and getting them FAST too!
The power of a great recommendation.
An osteopath friend once told me that if a client came from a trusted referral, half his work was done before he put his hands on them as they already trusted him. 
Recommendations really are that powerful.
Testimonials are golden.  They are so valuable to your business.
They show you are trustworthy.
2. They also show you have a proven system for getting results.
3. People want certainty and safety and a good testimonial will help clients trust you and make working with you and easy "Yes!".
4. Testimonials are good for us too, they combat the "not good enough" imposter syndrome we all succumb to.
5. Testimonials help us break free from the emotional baggage that keeps us from charging our worth and sharing  ourselves more widely. 
May I quote you on that please?
Capture the Magic Moment, when your  client reports amazing success! (I credit Kendall Summerhawk with many or these ideas, she is the queen of the testimonial).
When your client tells you how amazing they are feeling after your treatment, how tiny their utility bills were this month or whatever service you have delivered and you can utter the magic words.
"May I quote you on that please?"   "Would you mind if I take a screen shot and share it?"  See the one below that Sabrina posted in our Facebook group in my Own Your Value Charge Your Worth Course. See more here! 
"I'd love to share your success, I think it would be really inspiring for others to read.  Would it be ok if I write that down?  I'd love to use it in my marketing. 
If they don't agree instantly, which people usually do, you can add "If you're not comfortable with that, I totally understand".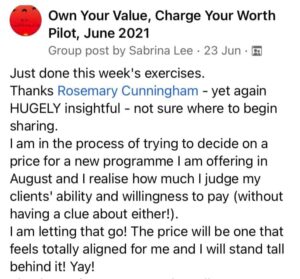 Invite your clients to be a Case Study
Another way is to create case studies of clients you have worked with.  Try this script.
 "I'm creating some new case studies of clients I've worked with and I'd love to feature you.  (I'd love to feature your business too, add your name and logo of course).
If you're happy to do that, we can get on the phone for a few minutes and I'll interview you, record the interview.  Then I can send it over for your final approval (and you can change anything you like, of course!")
You can get the interview transcribed and reduce it down to the best one hundred and fifty words and then send it over for their approval.
Here are some interview questions to get a great testimonial.
Get their "Before" Story.
What problem were you facing before we worked together/you used my  product etc?
2. What did you want to achieve that made you excited to work with me?
3. During our coaching session/therapy sessions/using the product, taking the course, what have you found most valuable? 
4. What did you learn and find most valuable?
If you're interviewing someone, pull the detail out. Get really specific.
5. Get specific about the results they have had.  Show a return on their investment if possible.
Tell me about the successes you've already celebrated or already been able to achieve with our coaching together? 
How much more income have they had, new clients, better sleep, less back ache,  a new job).Why has working with me been a great decision for you? What has changed? 
6. What piece of advice or wisdom would you like to share with someone thinking of working with me? 
Record your answers, edit what you do and don't want and put them in a case study.
I hope that's given you some ideas to collect some awesome testimonials!
If you would help with running your heart centred business, do email me info@rosemarycunningham.co.uk or book yourself a complimentary Discovery Call here! https://rosemarycunninghamcoaching.as.me/