quite othree MaverieanI I holistin muy.  .
how can I help you? 

are you ready to start or grow your own business?  

 Hi!  I'm Rosemary!  I help women who want to find their passion and purpose and create a business that brings all of themselves into one pot.  I've had my own business since 1997.

I'm a healer, a business and money coach, a nurse, I can be very grounded and extremely spiritual too.  I bring it all into one pot and I help my clients do the same.  

My Branding Archetypes are Alchemist and Ruler (I love magic and transformation and really believe in miracles.  My Money Archetypes are Nurturer, Maverick and Accumulator. 

How has 2020 been for you? What a rollercoaster year.  The world seems to be changing beyond recognition.  In the midst, women in my community are running thriving businesses, getting so creative and keeping the faith and sanity when all around seems to be losing theirs.  

If we are a good match, it would be my joy to help you with your business. 2020 is the perfect time. Women, of all ages are coming into our own, the world needs YOUR wisdom and expertise!  You are welcome to book yourself in for a conversation with me here!  
A little about me!
I've always been a hands on kind of gal.  My first career was nursing which I loved but I had problems with my hands which meant it couldn't be my full time career. 
I felt very lost for a while, did a Business degree and felt like a total misfit.  Then three weeks after graduating with a respectable degree in business, German and personnel, I did a holistic massage course and on the first morning, while meditating, overlooking Dartmoor I was hooked. I couldn't believe how I could be so relaxed and how someone would just melt in my hands and I might be paid well enjoying myself so much, helping people feel good and happy!
I founded my complementary therapy business in 1993and did lots of training in different therapies. 
I was working from home, from professional clinics and in the NHS.  I have treated thousands of clients and earned good money but I never felt successful.  It's a Ruler archetype thing, always chasing a moving target and not stopping to  enjoy the moment. 
I have always loved my work but I won't lie, it's been very challenging.  My mission now is to help my clients find a much easier path. 
Business CAN be fun, light and even easy.. it's all about mindset. 
I've recently studied brain training and conscious creation and this is part of my coaching.  I help my clients find new ways of thinking and speaking so we create a very different reality, the one we REALLY want, not the one we think we deserve  or have been taught is for us. 
Leaving full time work can be very challenging.
If you're leaving a secure income to start your own venture, I know where you are and can help you feel safe and thrive.  
When I left my part time nursing job in 1999 to run my business full time.  I had lost my safety net of a regular salary and from that point on I started to feel unsafe and money rollercoaster began. I wish I had known then what I teach now!
I now work with women who really want to make a difference.  Maybe you're not sure about what your passion and purpose is yet.  I can help you with that too!  It will be my pleasure.  
Drop me a line..  07967 121167 or info@rosemarycunningham.co.uk.  
If you're ready to book a chat with me, book a complimentary Discovery session here!
I can't wait to speak to you and see if and how I can help you! 
To your success and so much happiness!  
Rosemary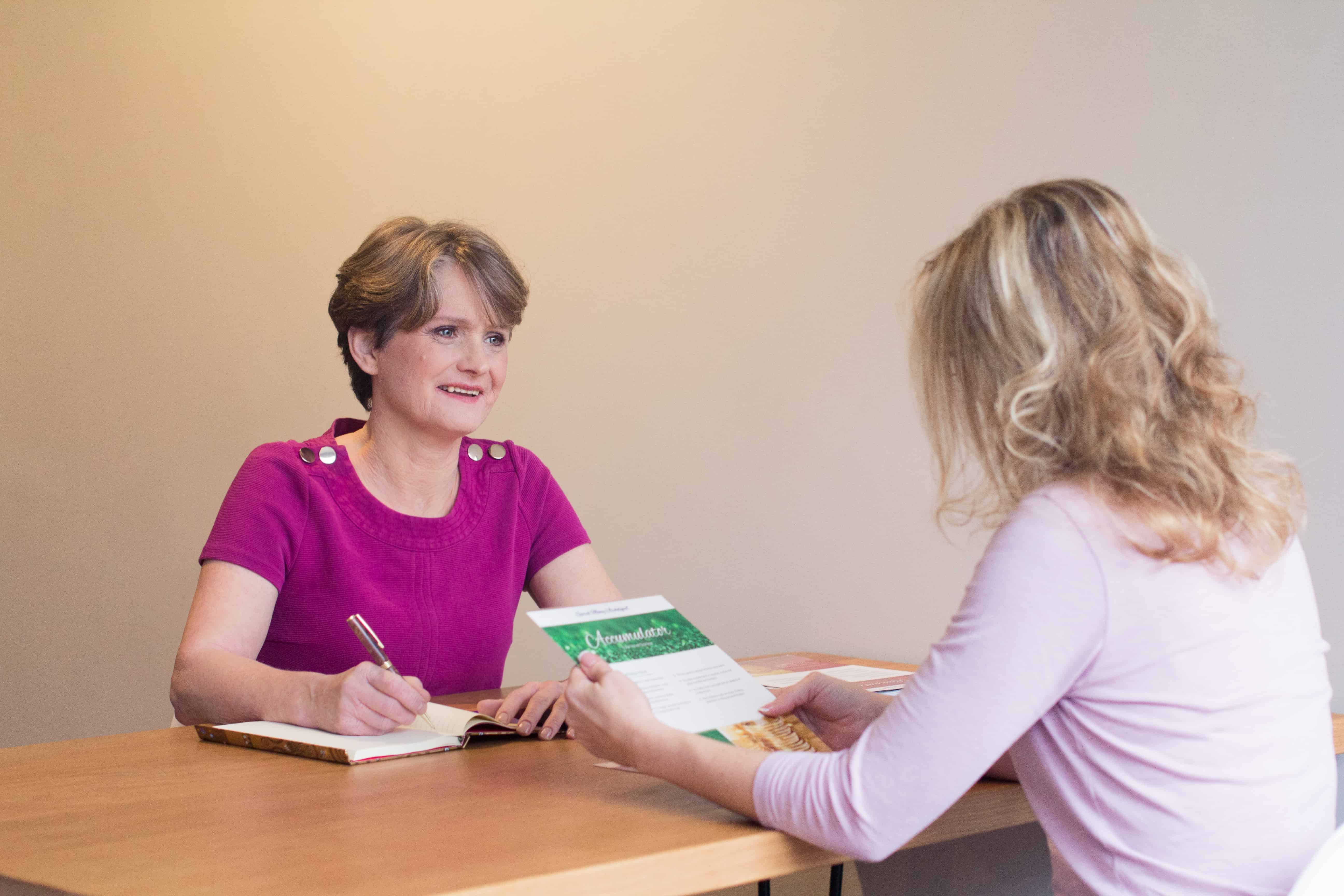 Do You Have Some Questions? Here are answers to those I am asked most often! 
Who are your clients?
I work with women entrepreneurs, often therapists but not exclusively who are struggling to find clients and who don't have enough money coming in or don't know where their money is going. 
You want to go to a new level in your financial life.   You're working really hard but never seem to make headway.   You wake up worrying about money, the fear can be so deep and it's on your mind much of the time.
My typical clients are.  
Often holistic practitioners and coaches

Women who have been transitioned from having a job to your own business and finding the money stuff challenging.

Women who want to be independent financially, maybe through divorce and want to find an ease with money that you haven't experienced before.

You know your relationship with money is strained and it's time! You're ready and willing to commit to doing some work.

You are struggling to have money conversations, with your clients, business partners, your spouse or children. You would love to be able to talk about money with ease and without drama or raised voices.

Maybe you have plenty of money coming in but you have a proverbial black hole. You have no idea where it all goes to.  There never seems to be any left.

You have a big dream and know that without some help, you won't be able to achieve it.
What makes you different from other "money coaches" and business coaches?
We are all unique and I'm a coach who will help you feel safe and able to explore your biggest worries and fears.
The truth about what's standing in your way will reveal itself to be cleared as I'll help you find any hidden beliefs that have been tripping you up and stopping you move forward.
My archetypes are Nurturer (the nurse and healer in me!), Celebrity – the one who helps get you and me out from behind our bushel, and Maverick.  My Maverick has got me into all sorts of trouble but is also the courageous part of me that says "Yes" to launch big projects like the Essex Business Women's Experience that attracted several hundred women three years in succession in Southend-on-sea!
I won't be advising you on your pension or investments, that's not my field of expertise but I have some great people who I can recommend to help you with that.
I'm very honest but I'll treat you kindly and sensitively so you feel safe to make the changes and find an exciting, strong path going forward.
I'm a healer and energy worker and we will be working with your energy.  If we work together in person, I may include an energy treatment, Bowen Therapy or Reflexology. 
We will have lots of fun together, I'll share my experience with you and help you with your business in any way that I can.  I have a wealth of practical marketing experience and can help you find the most comfortable, suitable way to run your business so you can relax and thrive.
What type of personality do you work best with and what is expected of me?
My "Money Mastery for Women" workshops and programs were created for women who are absolutely serious about transforming their relationship with money and removing the blocks and worries that are holding them back.  My clients then soar in their lives and businesses as they find their passion, get right out of their own way and find what they came here to do! 
Being a therapist and coach myself, I'm known to work best with other therapists and coaches, people who are committed to their success no matter what,  who are super-ready to get going and just want to know exactly what steps to take to get over their blocks and create a new happy relationship with money.
They were created for you to put systems in place within a few months (sometimes weeks!), which will eventually lead you to attract the opportunities and clients that you want effortlessly and easily, taking the strain out of business and money matters.
You will be expected to take serious and consistent action. No excuses anymore, just a very different way of thinking and full support while you achieve this incredibly exciting goal: to be so proud of yourself and your money habits and have so much more flowing easily into your life!
For what type of professionals are your programs NOT going to work?
Please know I'm very selective in who I work with and I cherry-pick my clients, choosing to (gently) turn away people who aren't suited for my programs and won't get the results for which they would have signed up for. (It wouldn't be fair to them.)
The Money Mastery Programs are NOT for those who have no money coming in and are absolutely, financially desperate, at least not right away. It's been my experience that people in financial crisis do not trust the recommendations I give them and do not do the work (probably because they spend so much time worrying about where they are going to get next month's rent check or mortgage payment.) If you fall within this category, it's absolutely OK. We've all been in times of financial crisis at one point or another. Do yourself (3) favours:
Get some money coming in with a full-time or part-time job at the very least, and then call me. This will take the edge off and provide a little more peace of mind. Mostly, it will de-clutter your mind enough to focus on your Money Mastery program assignments and the BIG picture.
Once you start seeing the clients come in regularly as a result of our work, you can then start reducing the hours you work at that other job and focus on your own practice.
Sign up for the free Money Mastery for Women Facebook Group. The free information will get you started towards your goals until you're ready to work with me one-on-one.
Doing these things will really help you get primed for our work. When you're ready, call me and we'll get you started. (I'm in no rush and will be here when you need me.)
Another types of personalities I won't work with (without exception) are the whiner or the chronic skeptic, as well as individuals who consistently make excuses for not getting their assignments done or challenging every aspect of the program.
If you are one of these people, I gently and respectfully ask that you not call and I hope you understand why. We'll probably just not work well together and I wouldn't want you to waste your time or money. 
What exactly is the Money Mastery Program and what does it include?
The Money Mastery begins with understanding your money story, where your beliefs and attitudes to money really come from.
You'll learn how to look after yourself, have respectful, peaceful money conversations, even with yourself!
You'll learn how to create wealth, how to create powerful intentions that get you results as well as the outer pieces to powerfully get the word out about your business.
Here's what the System gets you to do:
Write your money story. We go deep, explore the past and where it's affecting the present then we let it go and leave a space to create the future you choose.

Turn money into a friend you can work with instead of a foe.

Money drains. What's not working at the moment?  We explore this then put a new powerful way in place.

You meet your Money Archetypes! These show you who you are, what gifts you have that you didn't even know about and how you can be the powerful person you came here to be.

Difficult money conversations trip us up.   We often avoid them completely.  You learn about yourself, your boundaries and how you can have even the most uncomfortable money conversations with ease!  And I support you to do what you most dread! 

The Mindset for Making Money. If you have debt we make a plan for clearing that.  We look at any hidden beliefs that are keeping you in the same pattern.
Does this really work?
Yes! The result of our work is an approach to shifting your mindset and giving you the ability to see when you're tripping yourself up, your buttons are being hit then breathe, talk to yourself and take a different action.
"Rosemary's Money Mastery Course really helped me grasp my self worth and encouraged me to step forward as a woman in a male dominated industry. The course was a big help and support about having difficult money conversations".
Niki Demson.
To read more feedback from current clients visit my Success Stories page.
What results can I expect?
You can expect to:
Have big breakthroughs and ah ha moments

Be clear concise and honest in your communications, especially about money and have those awkward conversations with relative ease.

Create healthy boundaries. Learn how to say NO and honour your yes and no's

Creating new standards for yourself

Feel empowered & excited about the future

Develop more compassion for yourself and others

Have more ease and grace in your life

Watch your best life unfold with ease

End the drama cycles and patterns

End the feast and famine cycle

Raise your self-esteem and self confidence

Rewrite your money story

How to see your relationships as mirrors and open channels for transformation

Learn proven techniques for releasing your internal resistance and self-sabotaging tendencies so you can take action and start living your passion and purpose with ease.

Learn time saving techniques that will dramatically cut down your learning curve

Make more money than you're making now, while enjoying being in business for yourself even more than you're enjoying it now
Can I contact some of your former clients to see what it's like to work with you?
Yes, I encourage you to! Please go to the Success Stories  page and read all of them. See which ones you feel drawn to, either because the person has had the results you want to get too, or perhaps because that person is in a similar situation.
Then contact me and I'll introduce you to one of them and you can ask what they got from working with me and my programs.
How quickly can I expect results?
That depends on how quickly you can make those inner shifts. Some clients are ready to go and see huge benefits in a very short time frame, sometimes hours or a few days while others have a bit more work to do first. It also depends you and your ability and willingness to do the work.  
Will I recover the investment I put into this coaching program?
Yes, a resounding Yes! Many clients are excited to report that they were able to cover their investment often with only one or two new clients.
I want you to stop reading for just one moment to ask yourself, "What is a new client worth to me, and what is the average revenue I make from the lifetime of that one client?"
Chances are, that amount will more than cover your coaching investment. Most likely, you will make many times what you invested in this program in the next year.
The information and skills you learn with Money Mastery will net you 100 times what you invest in the next 10 to 20 years.  What you get in my programs (and my coaching) is what I call a series of major breakthroughs! That will move your business faster than you would on your own. 
That's what you're investing in, results, more revenue, more confidence, more clients, more ease and happiness and not just more "information."
This sounds great, I'm really interested but I have a couple of additional questions. Can I call you?
Good, sounds like you're ready to be step into your future!   You are welcome to book a complimentary 30 Minute Money Discovery Call here. 
https://rosemarycunninghamcoaching.as.me/
You can also email me at info@rosemarycunningham.co.uk.   I'll be happy to walk you through the different options to see which one will be the very best for you. I can't wait to see you succeed and am honoured to be the one to help you.   Let's get going!