Glastonbury Soul Nurture Weekend 13-16 October 2023.
Last couple of places still available!
This is your invitation to a magical and immersive weekend in the Heart Chakra of our universe, Glastonbury!
"I cannot recommend this retreat enough . The accommodation was first class and Rosemary looked after us all so well , cooking us beautiful homemade nutritious food .
On a personal level it gave me time to think and just be.  Time to be with a group of amazing women see the wonderful sights of Glastonbury which is a truly special place.
I've already signed up for May 2023 . Why not join us?"    Celia Parks, October 2022
Experience the spaciousness with the loving support of an empathic and perceptive group of women who really get you.
Do you feel deeply that this is your time? Are you yearning to birth the next phase of you? Not sure where to begin?  Then join us for this transformative Soul Nurture Retreat weekend.
Single Occupancy Room with shared bathroom  £695.  Message me for payment details or with questions!  07967 121167
Twin Room. Special rate if you share!   £395   We can allocate someone for you and up to three friends!. Some rooms accomodate four so if you wish to bring a few friends, we can arrange a more competitive room rate!  Please ask.
Please email me info@rosemarycunningham.co.uk or phone 07967 121167 for queries and alternative ways to pay. 
What can you expect from this Soul Nurture Weekend in Glastonbury? 
The Soul Nurture Retreat weekend is a healing, feminine feast for all your senses.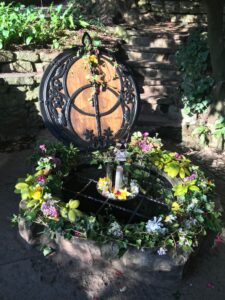 Together, we'll explore where you're growing into – body, mind and spirit – and feel into what's possible through guided and personal exploration. Think: coaching, connection, movement, and creativity.
And all this will happen in Glastonbury, a mystical and potent place, where the Goddess is alive and well.  She is ready and awaiting your arrival!
Embodying Your Divine Feminine
Reconnect to your body through gentle yoga and divine massage or reflexology.
Feel the earth's heart beating below the soles of your feet, as you walk in nature.  Rest when you feel the need.
Take time to feel into your body's innate wisdom, to sense who you are and who you want to be in your life now.
Inner & Outer Guidance
Explore who you are and where your spirit is calling you now through guided coaching sessions, visualisations, time in quiet and discussion.
Use creative journalling techniques to reconnect to your inner guidance and reveal answers.
Glastonbury & The Goddess
Drink from the red and white springs. Feel the magical flow of the water in the White Spring and the fragrance and beauty of the Chalice Well Gardens.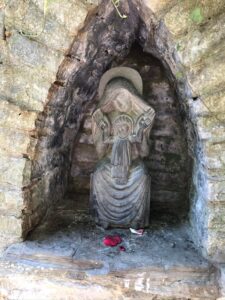 Meditate, light a candle, contemplate the Divine Feminine, within the Goddess Temple, believed to be the first formally recognised Goddess Temple in Europe for at least 1500 years — maybe ever!
This sacred place is devoted to the Lady of Avalon, the Goddess of this land and to the spiritual tradition of empowering women and men as spiritual leaders, thinkers and vision holders — a perfect space within which to peacefully integrate your Soul Nurture Retreat learning.
Our Venue, Honeysuckle Farm Cottages in Glastonbury 
We'll be staying at Honeysuckle Farm Cottages. Specially chosen for the Soul Nurture Retreat due to its welcoming charm and ideal Glastonbury location.
Situated ten minutes walk from Glastonbury Tor, the White Spring and Chalice Well and twenty minutes walk into the town, there are three Honeysuckle Farm Cottages, which each sleep between two and eight people.
Expect country cosiness combined with modern creature comforts.  From snug beds, crisp white linen and towels, to underfloor heating, wood burners, and well equipped comfy lounges.
Plus, there's plenty of space for meditation, yoga, and outdoor sessions if the weather allows too.
What our guests say:
"From arriving at the cottages right through to leaving, the whole experience was warm and welcoming.  The location was perfect for a bit of a stroll to the many wonderful sites of Glastonbury.   I felt very looked after with amazing home cooked food. I thoroughly enjoyed all of the workshops and treatments over the weekend. It was all an absolute treat"!   Melissa Eloise, October 2022  
What's Included: 
Three  incredible days together with daily mastermind and coaching sessions focussing on you!
Company, conversations and activities with like-minded, heart centred women.
Comfortable accommodation in ten minutes walk from Glastonbury Tor in the green of Avalon.
A yoga class
A complimentary 30 minute treatment.
Delicious breakfast, lunch, dinner and afternoon teas.
Time to absorb and reflect in legendary centres of the Divine Feminine:  the Chalice Well Gardens, the White Spring, Goddess Temple, Margaret Chapel in Magdalene Street.
Morning and sunset walks and meditations, weather permitting!  We will certainly be out and about!  Bring your waterproofs, walking boots and swimmers to be ready for all possibilities!
What's not included:
Transport to and from your home.
Transfers from railway or airport. 
Single room supplements.
Trip insurance for you. I recommend you take out your own travel insurance.  
Dinner on Saturday night in Glastonbury which was approx £20 a head in 2022.
Entry to the Chalice Well Gardens £5
Your shopping in the wonderful shops in Glastonbury! 
The Cuisine
Our food will be nutritious, some organic, always tasty.
All diets can be catered for.  Please give us lots of notice and do bring anything special that you just can't live without.
Tasty salads, soups, vegan, vegetarian, gluten and dairy free options.
We will eat in a restaurant in Glastonbury on the Saturday night.  You can order what you want and pay for your own meal.
Travel
There are no trains to Glastonbury but the Flixbus runs from Hammersmith in London right to the centre of Glastonbury every day.
The nearest railway station is Shepton Mallet and a bus runs to Glastonbury from there.
The retreat address is Cinnamon Lane, Glastonbury, BA6 ABN
The nearest airport is Bristol Airport, 25.5 miles from the accommodation.
Your Hosts and Mentors
Rosemary Cunningham will be leading your self exploration this weekend.  She has been a healer all her life.  She helps empath and sensitive women thrive in life, health and business.  Based in Essex, she has ran her own healing practice for 30 years, is the founder of Winning Women Essex.
Helen Davis will be sharing a creative art journalling session this weekend.  Helen is an artist, specialising in collage, helping women learn more about ourselves through gentle, fun, colourful art journalling.  You can find more about Helen here.  Helendonline
Your Investment
There is limited accomodation and only one room with ensuite so please don't hesitate about making your booking!
Contact info@rosemarycunningham.co.uk to make your booking.
Single Occupancy Room with ensuite bathroom £895.  Fully Booked for May, still available for October.
Single Occupancy Room with shared bathroom  £695.
Share with a friend.  We can allocate someone for you or bring a friend!.   Special early full pay investment until 31 November is £495 per person.
A deposit per person is payable to confirm a booking and is non-refundable.
100% of the total Holiday cost is payable a minimum of 60 days before arrival and is non refundable once paid.
Cancellation Policy
In the event of the client cancelling their booking 60 days or less before arrival a 100% cancellation fee is payable.  Your booking can be transferred to someone else.
We try never to cancel a confirmed booking, but reserve the right to do so. If we cancel a confirmed booking we will offer the choice of a full refund or another available date.